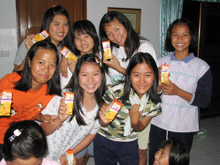 Milk: $14
Helps buy a glass of milk for 1 month for 1 child. We want to give milk to the 113 children in our 6 Project L.I.F.E. children's homes.
School uniforms:  $80
Help buy 1 set of 2 uniforms, school bag and shoes for a child for 1 year. We have 113 children to support.
School: $205 
Pays the school fees for 1 year for a child to go to school. We are helping 700 children through the Project L.I.F.E. Child Sponsorship Program. Hundreds more are on the waiting list.
Job training: $820
Helps change a recovering bar-girl's life forever through a special 3 month counseling/job retraining program at Tamar Center.
Slums: $12
Help 80 slum children to enjoy a good meal once a week in Pattaya Slum.
Freezer:  $640
Will help buy a 9.5 cu liter freezer to store food for the children. We have 3 homes that need a freezer.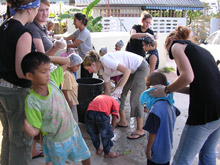 Lice: $14
Covers the cost of lice treatment for 10 children in the Pattaya slum.
Playgrounds: $1,800
Will help build a safe lasting playground for the children. We have 4 homes that need a playground.
Teeth and bones: $100
Help pay the medical/dental treatment for one child in one of our children's homes for one year.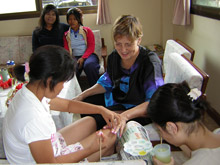 Help the helpers: $240 helps pay  1 month support for 1 staff.
Our Project L.I.F.E. Thai staff does an awesome job because it's not a 'job' – it is their heart call.
Bigger things:
Three Project L.I.F.E. projects need trucks. Cost: $18,000. 
If you would like to donate for any of our needs, please click here!