Are all children equal?
We want to say 'yes'. But what about the child who lives so far up the mountain, there is no road? No electricity? No running water? Whose village has no school. No teacher. Whose parents are so poor they can't afford to send him or her down the mountain to the town school.
Is that child equal to a child born in town? Will his future be the same? He will have no education. He won't be able to read or write. His future is pretty dark. A life of poverty is almost guaranteed. Unless that child has help. That's when the helping hands of "Friend to Friends" reach out, and lift that child into a place of hope.
Friend to Friends has opened a student center in the nearby town where some of these children can stay during the week so they can go to the town school. It will be like a 'home away from home' where they will be cared for, mentored, and nurtured in the Karen-Thai culture. But because Friends to Friends strongly believes in the importance of family, the children will go home each weekend to help their parents. Friends and families..that's what L.I.F.E. is all about.
Real L.I.F.E. story: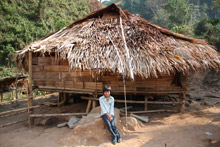 Food. Most of us take it for granted. 11 year old Shida * doesn't. Most days, she is in the forest or down by the river, trying to find food for herself, her aunt and her grandmother.
Life has always been hard for Shida. She was just 4 when her mother died. It should have been a time where her father and her drew closer together. But the opposite happened. Her father married again and neither he nor his new wife wanted Shida. What do you do with a hurting, lonely little girl? Where is a safe place? Her aunt took her in, but her aunt already had many heavy burdens: abandoned by her husband, left to care for a handicapped child, and responsible for an ill grandmother. Shida loves her aunt and wants to help – that's why she is in the woods, as darkness falls, trying to find food to feed her family. How Shida needs a friend!
And that is what God gave her.
The leaders of Project L.I.F.E.'s Friend to Friends Project came to her village, met with Shida and her family, and now Shida is living in their student center. Her dream has always been to go to school, and now she can. She's found a friend..and a future. That's what L.I.F.E. is all about.
(*not real name)
Contact Friend to Friends Project
Friend to Friends Project
P.O. Box 4
Muang Parn Post Office
Lampang 52240
Thailand
Friend to Friends Project
P.O. Box 4
Muang Parn Post Office
Lampang 52240
Thailand