Stretching for about 15 km along the Gulf of Thailand, about 100 km south of Bangkok. More than 6 million tourists visit Pattaya each year, with the majority coming to enjoy the nightlife of the city. Tamar Center was started in 1999 with the vision of helping the many women that are working in the sex industry in Pattaya.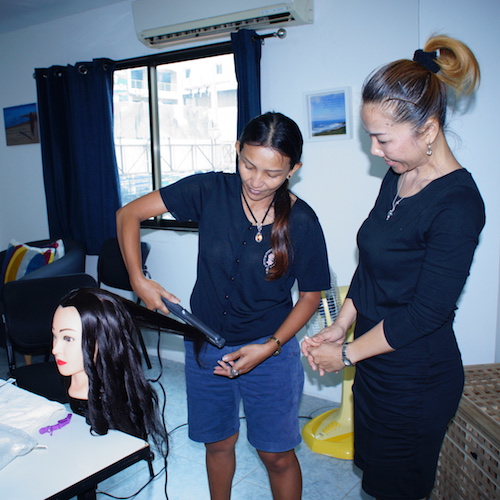 From our outreach center in the middle of the red-light district we reach out to the women working in prostitution and share the light of hope with them. Tamar Center staff visit women in the bars across the city to tell about the opportunity to change their lives and to share the love of God with them. In the outreach center we run an English class and have a hairdressing salon, to build further relationships. If the women are ready to leave the bars behind we offer them housing, vocational training (hairdressing, baking, cooking, sewing and handicrafts), counseling, biblical teaching and practical help. We offer jobs in our businesses to the women and help with further education. Women who want to leave prostitution are welcome to join Tamar at any time.
Real L.I.F.E. story:
Lek's Story (Name has been changed)
Before coming to Tamar Center, I had no education so the only way I thought I could make a living was selling my body. For eight years I worked in the bars on Beach Road in Pattaya. I did my best to take care of my three children during the day and I worked in the bars at night. Life was very hard. When I got HIV I had to stop working and could no longer take care of my children, so they had to stay in a shelter. I had no idea what I should do to support myself and my children until one day I heard about Tamar Center. I decided to join the training program at Tamar Center, where I learned a lot about the Bible and about unconditional love. I prayed for two things: First, I asked for a strong body so I could learn and work. Second, I asked to be reunited with my three kids again. Thank God for answering both prayers!
In the first three months of my training I gained 22 pounds and my health improved. I have also been reunited with my three kids and I am now able to take care of them. Before the training, when my children's friends asked them what their mother did they couldn't give a good answer. Now they can proudly tell their friends that I am a hairdresser. Through Tamar Center my life has been changed. I have received a lot of training and I have a good job as a hairdresser. I have God and I have my children, that's all I need. I'm very thankful for the people who looked after me. They not only helped me, but also helped my children. Before I had no hope but now I have a future with hopes and dreams.
Help make a difference in the lives of Thai women in Pattaya
by buying Tamar Products online 
Contact Tamar Center
Tamar Center
Box 278
Pattaya 20260
Thailand
Tamar Center
Box 278
Pattaya 20260
Thailand
Department of Tourism (http://www.tourism.go.th/home/details/11/221/25767)